Elasmosaurus
The dinosaur's card
Rarity
Super Rare Aquatic
Class
Surface
Price
2400 DNA
Hatch Time
Unlocked by getting the Aquatics Pack and the Elasmosaurus Pack.
Unlock Method
Unknown
Hybrid(s)
Unknown
Coins Generated @ Lvl 40
Unknown
Health @ Lvl 40
Unknown
Damage @ Lvl 40
Unknown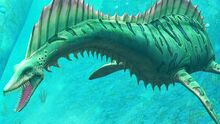 About Elasmosaurus
At 10.3 metres (34 ft) in length, Elasmosaurus was among the largest plesiosaurs. It differs from all other plesiosaurs by having six teeth per premaxilla (the bones at the tip of the snout) and 72 neck (cervical) vertebrae. The skull was relatively flat, with a number of long pointed teeth. The lower jaws were joined at the tip to a point between the fourth and fifth teeth. The neck vertebrae immediately following the skull were long and low, and had longitudinal lateral crests. Like most elasmosaurids, Elasmosaurus had around three pectoral vertebrae. The tail included at least 18 vertebrae.
Community content is available under
CC-BY-SA
unless otherwise noted.