Mauisaurus
The dinosaur's card
Rarity
Super Rare Aquatic
Class
Surface
Price
2,500 DNA
Hatch Time
Unlocked by getting the Aquatics Pack and the Mauisaurus Pack.
Unlock Method
Unknown
Hybrid(s)
Unknown
Coins Generated @ Lvl 40
Unknown
Health @ Lvl 40
Unknown
Damage @ Lvl 40
Unknown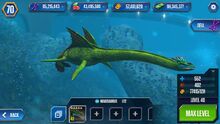 About Mauisaurus
Mauisaurus ("Maui reptile") is a genus of plesiosaur that lived during the Late Cretaceous period around 80 to 69 million years ago in what is now New Zealand. It was the largest plesiosaur, and perhaps the largest marine reptile in New Zealand waters at the time. Mauisaurus haasti is the only known species of the genus. A handful of specimens have been found, although only a few are well preserved and mostly complete. The only other established New Zealand plesiosaur, Tuarangisaurus keyesi, cannot be linked as a direct relative to Mauisaurus.
Community content is available under
CC-BY-SA
unless otherwise noted.