Pyroraptor
The dinosaur's card

Some attributes

First
Rare Dinosaur
Second
Carnivores
Third
650 DNA

Other attributes

Fourth
2 hours 40 minutes
Fifth
Unlocked by beating battle stage 48
Sixth
Fused with Carnotaurus Lvl 40 and Pyroraptor Lvl 40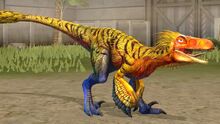 About Pyroraptor
Pyroraptor is a genus of dromaeosaurid dinosaur from the late Cretaceous Period of France. It is known from a single specimen. It was found in 1992 in the south of France, in Provence, and is known only from a few bones.
In the game
the pyroraptor is a part of the raptor species like the utahraptor and velociraptor,it has feathers a thin tail and thin legs,it looks similar to the dilophosaurus exept without a fan and has a different hybrid,the pyroraptor is the 2nd strongest raptor the first is velociraptor and the first is utahraptor.
Album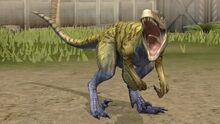 Community content is available under
CC-BY-SA
unless otherwise noted.