About Wuerhosaurus
Wuerhosaurus was a stegosaur dinosaur that lived in the Early Cretaceous period, making it one of the last stegosaurids in existence. It grew up to 7 meters (23 ft) in length, and resembles its more famous cousin, Stegosaurus. It can be easily distinguished by its small, roundish, rectangle-shaped plates.
In the Game
Wuerhosaurus is one of VIP Herbivores.
Album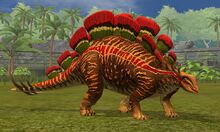 Community content is available under
CC-BY-SA
unless otherwise noted.